61. Learn to play poker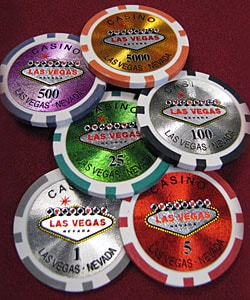 I feel like pretty much all of Alex's friends play poker so when we were in Vegas, Alex spent some time teaching my how to play. I'm still not comfortable playing in an actual game, but at least I know all the rules now. One day...one day.
127. Take a picture by the Welcome to Las Vegas sign
My family went on a vacation to Las Vegas at the beginning of June, and while we were there I decided to walk over to the Welcome to Las Vegas sign (and I dragged Alex with me). It was such a long walk, but it was on my bucket list so I had to go. We got some nice pictures out of it, and I'd definitely say it was worth it. To all of you that want to go, take a cab instead of walking. Seriously.
144. See a Cirque du Soliel Show
The one show we had to see in Vegas was The Beatles LOVE by Cirque du Soliel. My family loves The Beatles so we knew if we could only see one Cirque du Soliel show, that would be it. The show was absolutely incredible and I'm so glad we got to go. The next day Alex and I went to Zumanity, which is a more sensual Cirque du Soliel show. I didn't love it, but it wasn't terrible. I'm glad we went.
145. Own a gun
I think it was only a matter of time before this happened. After all, my boyfriend loves going shooting. I bought a Sig Sauer P238 which is a .380 caliber. Alex has the same one so now we have matching pistols. The couple that shoots together stays together.